Dinner Menu
Our school dinner menu follows a four-week cycle. You can read the current menu below:

At St. Jude's we encourage children to drink plenty of water and strongly encourage them to bring in a piece of fruit at break times.
Key Stage 1 children receive a piece of fresh fruit daily provided by the DCFS free fruit scheme. All children can purchase milk to drink at morning break.
St. Jude's has been awarded the 'Health for Life' and 'Be Healthy' Schools Awards. Children have worked very hard to achieve these awards improving their awareness of the importance of being and eating healthy.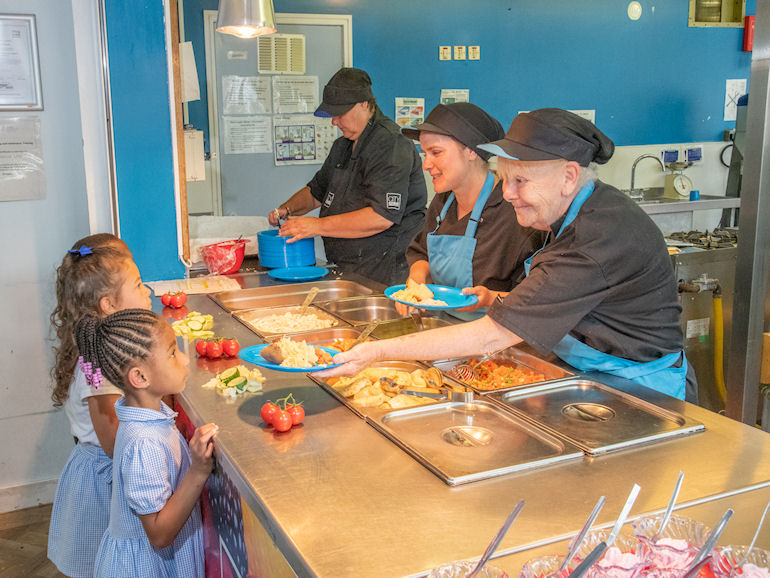 Free School Meals
EYFS and Key Stage 1
All children in Reception, Year 1 and Year 2 will get free school meals through the government-funded universal initiative that was launched in September 2014.
We positively promote this and encourage all parents to take up this offer. We estimate that it will save parents hundreds of pounds per year and provide children with a well-balanced and nutritious lunch.
Key Stage 2
For children in Years 3 to 6, if you as parent/carer receive certain benefits, then your child may be eligible for Free School Meals. Please use the Free School Meals Checking Service to see if you are eligible.
If you are on a low income and/or receiving benefits, then please apply for this grant as the school receives extra income towards its education budget for your child as part of the Pupil Premium initiative.